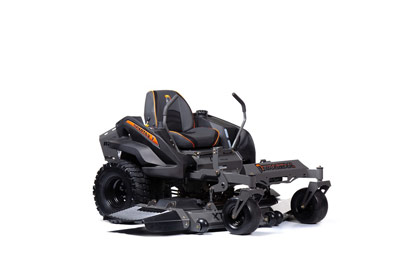 The Spartan RZ Series performs like a commercial grade mower with a residential price! The RZ now offers three series options, the RZ, RZ Pro and RZ HD. The RZ with 54" deck can manoeuvre through tight spaces with ease, and is an absolute beast of a machine for residential use (and it looks great too!). Upgrade to an RZ Pro or RZ HD for more deck size and engine options.
Spartan's RZ Series is equipped with the standard features that make Spartan stand out from the rest: GT Trac for the best incline traction, the Vibration Control Deck System, easy touch brake system, ergonomic cockpit, foot assist easy-lift deck, uncomplicated design for easy add-ons and maintenance, and state-of-the-art push start instrument panel.
Ride
GT trac for the best traction on inclines. Precision weight distribution, balance, and control
Patented brake system - patent-pending ergonomic foot control – foot-operated to unlock/lock
Soft ride rear radial tires option - specific tread pattern designed and tooled for this mower for softer ride, longer life, and more traction. Upgrade available on 48", 54" and 61" deck.
Cut
GT trac for precision traction, balance, and control
5" deep, reinforced extreme turf flow deck
Change on the go precision deck height dial with shock assisted deck foot lift
One piece deck with baffling
Design
Long lasting belt design with large idlers and minimal belt angles. Belts keep a constant tension to maximize belt life
Ergonomic cockpit - with 12v outlet
Perfectly balanced with low center of gravity
Plug and play simplistic wiring system
Simple push-start instrument panel
Wrap-around design for durability
Frame
Heavy duty tube frame - same material used on intimidator utvs
Easy maintenance access
Vibration control deck system
Lifetime warranty on leading edge of deck